A little backstory. If you don't care then skip to the end.
About 10 years ago I built this internal gear hubbed commuter bike with a chaincase and generator light (I know the generator light is missing from the photo, but trust me that the bike had one…this is my only photo of it):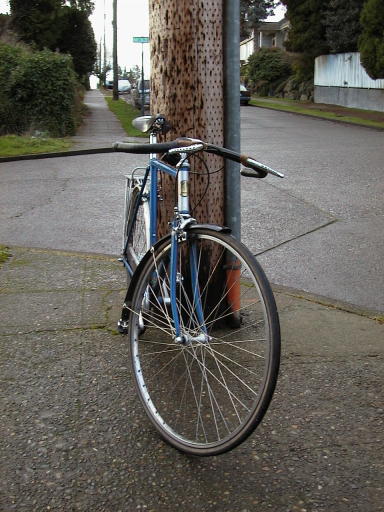 I got a lot of help on this project from Val Kleitz and the other people who worked at "The Bikesmith", a fantastic shop that used to be in Wallingford. This was the first bike that I builtup with their help, but it wouldn't be the last. During the 6 or 7 years that I shopped there Val spent countless hours chatting with me, letting me hang out and absorb shop talk, and helping me learn about bikes. I know that Val has touched a lot of the Seattle bicycle community in the same way. Hahn Rossman, who also worked at that shop, is the guy who told me about the Internet-BOB mailing list, which I now host. I kind of knew about it already and protested that I didn't own a Bridgestone bicycle (after all the list is called the Bridgestone Owner's Bunch). He said that didn't matter and I should join anyway. He was right.
A few weeks ago I learned that Val has cancer. Last Tuesday night there was a party and fundraising raffle to help Val with his cancer. I bought a lot of the tickets sold that night, but the amount that I spent was barely a drop compared to the flood of learning that I've had from Val. It is also probably a tiny drop of what Val needs to get past this illness, but I hope that it is a little bit of help.
I think I bought less than half of the tickets, but I won most of theitems. I gave almost all of them back and asked for them to be reraffled. One item in particular (a pink Brooks Swift saddle) really wanted to go home with me and I won it twice in a row,but on the third time it figured out that it really should go live with someone else.
I did win and keep the big prize of the evening,a Surly Big Dummy frame and fork. This is the backbone of a serious cargo hauler. I'd keep it, but I like building my own cargo haulers and don't have the room for one this large (it is about the same size as my tandem…we use the tandem a lot, so the Surly won't fit).
The Details
This is what you get, a 20″ Surly Big Dummy Frame and Fork:
This is what it can turn into (photo linked from http://thebikelane.wordpress.com/2009/04/04/todds-big-dummy/):
I brew beer and those are homebrew kegs that he is carrying. 5 gallons each is 40lbs of beer, plus about 15lbs for the keg. That is a roughly 220lb load. My cargo haulers can't do that.
I'm selling the Big Dummy for $650. $600 of that is going to Val to help his fight with cancer. $50 of that is going to Kent Peterson who keeps all of us amused (including Val) with great stories from the trail. The frame normally retails for $1050, but they are on sale right now and many places are selling them for $700. The cheapest price online that I can find is $609. I think my price is fair, and the money is going to a good cause. I promissed Val that I'd find a buyer who would use the Big Dummy and I hope to be able to live up to that promise.
I'd strongly prefer to sell this to someone in Seattle. I'll even deliver it to anyone within 50 miles of Seattle. I know it can be shipped, but it is expensive to do so (about $100-150) due to the size of the box.
If you are interested please email me. alex at phred dot org.