I was going to wait until the bike was finalized to post this, but I think it is getting close enough. You can read all about the planned rSogn on the Rawland Cycles Blog.
Rawland Cycles is updating the Sogn. The Sogn was already a nice bike, but the revisions are just going to make it better. The new bike will have the same tire clearance (58mm knobbies fit) and offroad friendly sloping top tube of the original, but gets lighter tubing and a geometry that is friendly to front loads while still working well unloaded offroad.
This almost makes it a mass produced variation of Gifford, the bicycle that I built in my basement and posted about in painful detail on this blog.  The tubing specs are the same.  The geometry is basically the same.  The construction methods and some details (fork bend, bottom bracket style, braze-ons) are different.
I've spent far too much time thinking about this style of bicycle. I don't have a good name for it, but let's call it a Rough Stuff bike. It is great on pavement with fenders and a commuting or light touring load. It is great on dirt roads. It is good on singletrack. It is the Subaru WRX of bikes: doesn't look like anything special, but performs well on pavement and on dirt, and at the end of the day it can carry your groceries home too.  I've built 7 of them using a variety of frames in the last decade, and Gifford is the best of them by far.
Sean (the owner of Rawland Cycles) is running the design process well.  I was worried at first that this bike could end up with the "design by committee" failing of some other projects.  That usually produces a mess, where the final bike doesn't follow any single vision and tries to make everyone happy.  Sean is being good at both listening to input and making tweaks here and there, but keeping his vision of what he wants to build and making sure that the bike meets his vision of how it should be ridden.  He's had to make some decisions that might cost him a sale or two (cantilever brakes instead of disk brakes), but I think that is better than putting on mounts for both.  The Simpsons had a classic episode about this problem, where Homer ended up building this: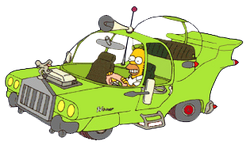 $500 (introductory price) is very nice for the frame and fork.  I'm probably buying one, even though it goes against my current plan of getting rid of bikes (at the moment I'm being too effective at that, I only have 2 rideable singles…Gifford and my MTB).
Disclaimer: I've been emailing Sean and providing my input on the bike, but get no kickback for this posting or my input.  I just want to see him sell a bunch of them because it is going to be a great bike.