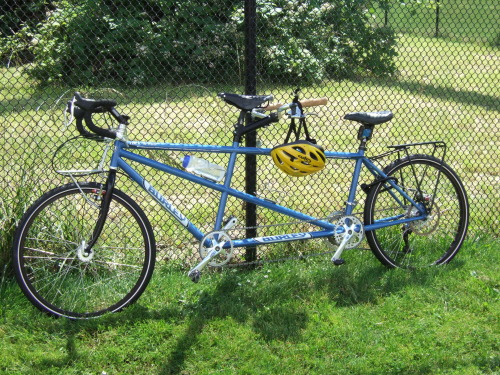 click for more photos
About three months ago I made a deal with a bike shop owning friend to trade in our RANS Screamer recumbent tandem for an upright Burley tandem. I really liked the Screamer for long rides, but I wasn't as comfortable riding it on shorter rides in the city. Almost all of our rides are shorter rides in the city, so the Screamer didn't make a lot of sense. As a bonus the new owner of the Screamer is also my regular touring buddy and so if I ever want to use the Screamer for touring again it won't be far away.
I originally thought I'd get a Burley Duet which is a very nice steel road tandem. The problem with the Duet is that it doesn't take wheels with tires over about 35mm wide (or even skinnier with fenders). Fenders are must for me and I like to find dirt trails, so wider tires were also necessary. We decided on getting the Rock and Roll which is their nicer "mountain" tandem and converting it to drop bars. This is exactly what we did with our first tandem, a Cannondale MT1000.
The Burley Rock and Roll comes stock in black or yellow, neither of which was very exciting for us. We decided to upgrade to a stock color and after a bunch of looking ended up going with "Celestial Blue". This is a nice medium blue with a hint of sparkle in the paint.
The tandem was ordered and scheduled to arrive in about 6 weeks (the long delay was due to the custom paint). 6 weeks came and went and I finally got a call late last week saying that the tandem had arrived. On Sunday I headed down to Olympia to pick it up (and play some bike polo). During the evenings this week I swapped out parts and built it up.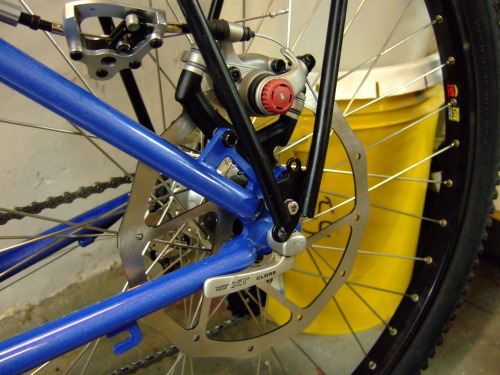 There were a few build challenges, but the bike has come together nicely. Stock the tandem came with a rear disk brake. This has caused a few issues: the disk brake caliper is setup for mountain bike brake levers and it sits right in the way of a rear rack. I solved the rear rack problem by drilling a new mounting hole in our rack that lets it sit a little lower. This opens up the space a bit where the disk brake caliper sits, and gives it just enough room to fit. The only downside is that it doesn't leave enough space for our Burley trailer hitch.
I temporarily made the disk brake caliper compatible with drop bar levers by using a Sidetrak BPB. That is the device sitting right in front of the disk caliper. It is a simple lever that turns a small amount of cable pull into a large amount of cable pull. The BPB does the job but is ugly and cumbersome, so I have a new disk brake caliper on order that is designed to work with drop bar levers.
Everything else on the bike went together smoothly. I mounted a Nitto Mini front rack for holding a handlebar bag and that works great. I was hoping to be able to use a Nitto M12 front rack because that model mounts to the cantilever studs, but it didn't fit on this fork. The Nitto Mini uses clamps that are a little ugly, but the black clamps disappear into the black fork and the final result looks good.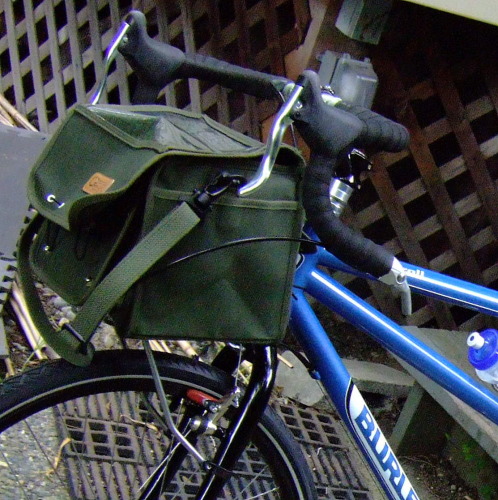 We took the bike on it's inaugural ride yesterday down to the U District Farmer's Market and the Fremont Solstice Parade. The bike rides great and will meet our needs wonderfully.
Parts list for the other bike geeks out there:
Wheels – Shimano HF08 (XT) tandem hubs, Sun Rhyno Lite rims,Schwable Marathon 26×1.5″ tires
Captain's handlebars – Nitto Noodle 46cm,Dimension high rise 120mm stem, Tektro brake levers, Shimano Dura/Ace 9sp barend shifters
Stoker's handlebars – Nitto Dove, Rivendell cork grips, Burley stoker stem, and unused brake/shift levers (we're borrowing this setup from Christine's single bike to see how the setup works on the tandem).
Captain's seatpost and saddle – Ritchey Logic 29.8mm and Brooks B17
Stoker's seatpost and saddle – Thudbuster ST. The saddle is a work in progress.
Drivetrain – Shimano 9sp front derailleur (whatever came with the bike), XT rear derailleur
Cranks – Thorn tandem cranks, 170mm front, 165mm rear, 50/38/24 chainrings, 42 timing rings
Front rack – Nitto Mini
Rear rack – Tubus Vega
Front brake – Suntour XC Pro
Rear brake – Avid BB7 Mtn with Sidetrak BPB, 203mm disk
alex